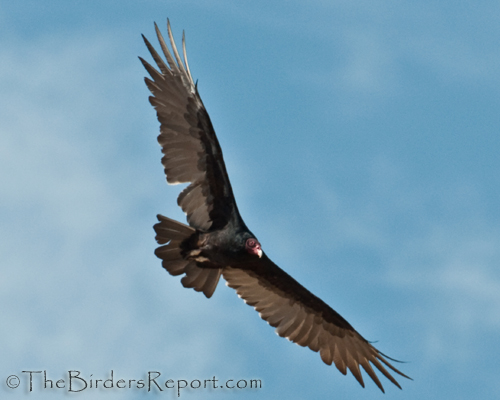 Turkey Vuture (Cathartes aura) in Flight photos by Larry Jordan
Turkey Vultures (Cathartes aura) are so underrated and misunderstood.  Some people think they're ugly, but not I (click on photos for full sized images).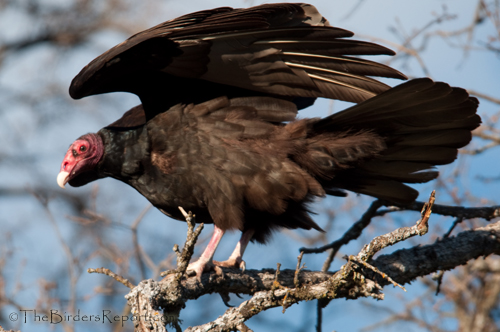 That bare skin on their head serves a purpose.  Not only does it help keep their heads clean when partaking of a carrion meal, they use that featherless head to help regulate body temperature.
They can tuck their bare heads into their feather collared necks to help keep warm and when they are heat stressed they will increase blood flow to the head, neck and legs which dissipates heat by evaporative cooling1.
Of course they also help regulate their body temperature using their famous spread-winged postures.  This is the "extended spread-wing posture"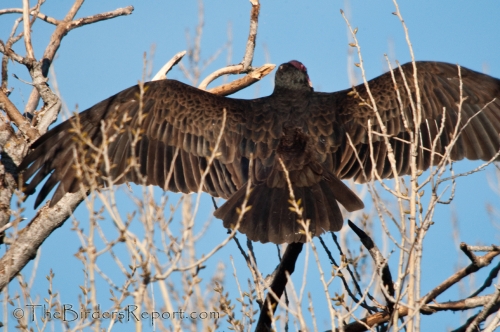 usually used to warm up in the morning sun or dry the wings, but sometimes it seems, just for fun.
Then there is the "delta wing posture" when Turkey Vultures face the sun and often preen.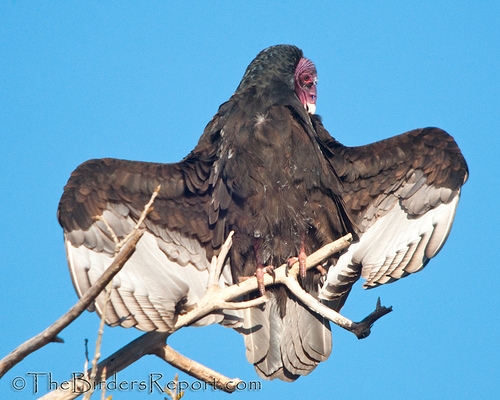 One of the coolest things to witness is the migration of these magnificent birds.  With a six foot wingspan, Turkey Vultures are nearly the size of a Golden Eagle.  Witnessing hundreds, sometimes thousands of Turkey Vultures flying overhead, heading south for the winter, is a real treat.
This phenomenon usually peaks in the month of October so be on the lookout.
For more great birds photos, check out Bird Photography Weekly and World Bird Wednesday!
References: 1Birds of North America Online